About Us:
July 2020 Update: Our deepest apologies but our funding cap has been reached this year and we are no longer accepting applications for new clients for any services. 
Pax Romana LLC is an investment company specializing in angel investments to qualified startups (more on that below). We also offer the following services:
1. Consulting: Would you like business guidance from a company that owns, has invested in and advise several profitable multi-million dollar companies? That's us and we are here to help. We can review financial information, evaluate current operations and assist with business planning and risk assessment. Consulting isn't for companies in trouble- it's also valuable for companies that are doing well and want to take things to a new level. Consulting fees vary based on the project but generally run about $300/hr.
2. Loans: Do you need money for a business venture, equipment or growth? If you meet certain requirements we can help! Sometimes everything is going great but there isn't quite enough working capital to make the stars align. We offer competitive loans in nearly any amount (current minimum loan amount is $25,000).
Angel Investments:
Pax Romana's specialty is Angel investments. If you are an individual or a group with an amazing idea or, better yet, if you already have a company off the ground and need an investment (money and/or consulting) we can help. We have been there- bootstrapping, making every dollar stretch as far as possible and working 100 hour weeks. We understand entrepreneurs, the challenges you face and we know what it takes to achieve success.
Using Angel investors allows you to avoid the potential heartbreak of borrowing from family and friends, mortgaging your home or giving up control of your company. We work alongside you to provide mentoring, strategy and, of course, funds.
Typically as angel investors we are not interested in equity, although we are open to this possibility if the offer and business is right. Generally we want recoup our investments quickly (a maximum of five years) and generate a substantial profit (at least ten times our original investment). This information is provided to you in an effort to be upfront and make sure there are no surprises when you decide it's time to contact us. Although many entrepreneurs initially feel this criteria is unreasonable those who have successfully worked with us know otherwise.
If you would like to talk with us please feel free to send us an email (contact information is below) outlining your business, projected revenue and financial requirements. We are happy to sign any non-compete documents you have available before reviewing any sensitive material. Please remember, we reserve the right to choose who we work with. Just because you have a "totally mind-blowing" idea or think you're the next "Jeff Gates Ellison" doesn't mean we will agree.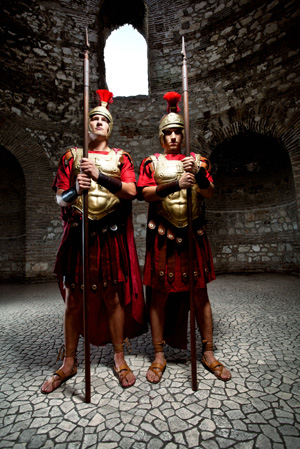 We are committed to guard your investments and are committed to guard our investments. No one takes this job more seriously than we do.
Contact Information:
Pax Romana LLC
564 W 700 S #102
Pleasant Grove, UT 84062
Fax: 801-768-4634
Email: paxromanallc (at) gmail (dot) com
You can also leave us a comment below:
July 2020 Update: Our deepest apologies but our funding cap has been reached this year and we are no longer accepting applications for new clients for any services.